If you are expecting problems or difficulties of any kind,
please take a look at our FAQ section before contacting our support team.
---
---
How long does it take to set-up a VPS †
As soon as we receive your order the provisioning of the VPS starts. We will aim to have your system up and running within 3hrs. Occasionally there may be circumstances when the provisioning may take a little longer.If your VPS has not been set-up 24hrs after order confirmation please contact our Support department.
How many IP addresses will I have? †
Your VPS will be allocated 1 dedicated IP address.
What are the software's which I can install on to a VPS? †
Provided you abide by our Terms & Conditions you can install whatever software you see fit. Please note that in order to keep pricing competitive we must limit the scope of what we can give technical support on. For this reason you are responsible for any software you install and any consequences that may arise.
What is the default installed OS on my VPS? †
CentOS 5.2 is already installed when you register a new VPS and you can also use Webmin by default. Default webmin has the following features :
    Web Server (Apache)
    FTP Server
    SMTP Server(Qmail)
    IMAP / POP3 Server(Courier-IMAP)
    Web based email (Horde IMP)
    Database Server (MYSQL)
    Database Management (PHPMyAdmin)
    SSH
    Scripting (Perl, PHP, Python, CGI, SSI)
    Statistics (Webalizer)
Can I change my default OS? †
Yes, you can install the following OS, x86 32bits or x86 64bits, on your manager page. Moreover you can install OS whatever you like by uploading ISO format files. This feature is for the first time in the VPS business field!
    CentOS 5.2 (kickstart)
    Fedora 9
    Ubuntu server 8.10
    Gentoo 2008.0
    Debian 4.0 r6
    FreeBSD 7.1
What is the level of technical support will I get if I need it? †
We place a strong emphasis on our level and quality of customer support. You can access to our support team from Inquiry page. Each member of our support department has a sound knowledge of Internet related technologies and is capable of operating all of the products we offer.
What does SSH access mean? †
SSH access allows you to connect to your VPS using a command-line interface. You can use a terminal emulator such as PuTTY to connect to your VPS via SSH. To do this you will need the IP address of your VPS and your login details as defined in you set-up email. Please note using SSH to connect to your VPS requires a certain level of technical competence and is more suited to advance users.
Do you automatically backup the content on my VPS? †
No, we do not automatically backup your virtual dedicated server. It is your responsibility to back up the content on your server.
Why do you recommend a VPS instead of a dedicated server? †
VPS is a good alternative to the dedicated server hosting. Virtual Private Server hosting is the level between shared hosting and dedicated hosting. VPS is a good way for learning about the dedicated server administration and management. If your shared hosting plan is too limited and you are looking for an affordable solution to dedicated server hosting, this is a real interesting alternative : Virtual Private Server is cheaper than dedicated server.
How is a VPS different from a dedicated server? †
The VPS runs as an enclosed environment on a powerful server. The server is sliced into a number of virtual servers in such a way that does not impact the overall performance of the hardware and other virtual server environments. In all respects, save for a special kernel environment, a virtual server is just like a dedicated server.
What software can I install on my virtual server? †
There are no limits. This is one of the beauties. You can install any software which you like.
Do I have full control over my virtual server? †
Yes, of course, you would be having complete control over your server with full root access and administrative rights. You can install your own operating software (Abide by Terms and Conditions) and any other software.
Can I use VPS comfortable in spite of unlimited bandwidth? †
We make every effort to keep our service high quality and stable so that you can use it as comfortable as possible.
What is the Webmin? †
Webmin is a web-based interface for system administration for Unix. Using any modern web browser, you can setup user accounts, Apache, DNS, file sharing and much more. More Information WEBMIN.COM Webmin, multiple screenshots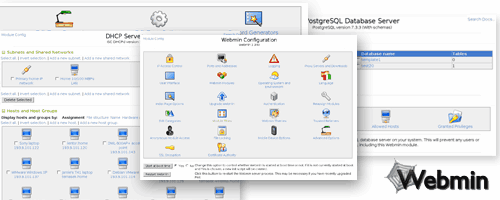 How can I access to Webmin for my system? †
Please access to the following URL on your browser. http://[Your VPS IP address]:10000/ If your VPS IP address were "123.123.123.123", your Webmin URL is the following: http://123.123.123.123:10000/ Please input "Username" and "Password" like the following at the first time to access your Webmin URL. Username: root Password: registerd password at your signup
What does the My ISO image installation mean? †
You can install your favorite Operating System (OS) into your VPS easily. More Information How to use a VPS Installation.
Why do I have to enter a "Root password" when I install kickstart "CentOS 5.2" on the OS Installation of manager page? †
You can login CentOs installed as a default by using a password which you entered on your signup page, however if you'd like to install "CentOS 5.2" from OS Installation of manager page, you have to enter a password because of a security reason. Please enter "root" for login name and the password which you entered on the installation page to login your VPS after installation.
Why my VNC connection seems freeze ? †
When you manually reboot your VPS by typing command reboot of reboot with graphical environment your VNC client don't get update anymore. For solve this problem just go on Digitalswift Manager and manually stop and start the VNC connection. Your client may close or say: "Connection lost " ; it's normal. Just reconnect to the VPS and everything works normally.
My VNC screen seems to be freezed... †
Please go back to Digital Swift Manager page and click [STOP] button then click [START] button. Normally VNC screen will be closed automatically or displayed "Connection lost", please reconnect to your VPS.
I don't have any domain name but I want to make a homepage... †
Don't worry! We provide you subdomain address for your homepage by default.
Your URL is as below,

http://[Your Account Name].digitalswift.net
If your account name were "abc",
the URL would be http://abc.digital.swift.net.

You can also replace it with your original domain name.

I'd like to change my current VPS plan to another one... What should I do? †
We're sorry that you cannot upgrade or downgrade your using plan, please register again a plan you'd like to change on our signup page.
During my first login to my VPS on VNC, I can't login my VPS by using registered account name...
Please enter "root" for login name and the password which you registered signup page.
Last-modified: 2013-01-17 (Thu) 15:45:25