USER GUIDE FOR VPS BEGINNERS †
Let's get started a new website with DigitalSwift †
This user guide helps you to upload a new website to your VPS and see your website on the Internet.

1. To sign up DigitalSwift's VPS:
First of all, please go to the "VPS PLANS" page from the top menu, select VPS plan you wish to use and click "Sign up". There are 3 steps to signup, please follow the steps and complete registration. After credit card transaction, you will receive an e-mail confirmation at the registered e-mail address. To login the DigitalSwift Manager, please access to the URL described on the e-mail or DigitalSwift's LOGIN page then enter your account name and password.


2. Before connect to your VPS:
After logging in your DigitalSwift Manager, please confirm your signal is green.

(If the signal is Yellow or Red, please click the [START] or [RESTART] button.)

Here we will explain how to access your VPS desktop by using VNC.


3. Open the VNC window:
Just push "Open" button for it at manager page.

If you cannot open it, please kindly try it with a different browser. For your reference, we confirmed that IE10, IE11 and latest Firefox can work without problem.

If you turn off Javascript function of the browser, it may not work well.
Now your VPS is launched.

4. To access to the webmin:
Your Webmin page addres is following URL;
http://[Your VPS IP address]:10000/


Please enter the "Username" and "Password" at the Webmin login page.
(At the first time, please enter as following.)
Username: root
Password: registerd password at your signup


After logging in the Webmin, click "File Manager" from

on the left menu.
The "File Manager" cannot run without Java Runtime Environment (JRE) on your browser. You can verify and download JRE from http://java.com/en/download/installed.jsp .
You'll see a lot of folders, click this [var] -> [www] -> [html] and upload html files to "/var/www/html".


5. To upload your html files: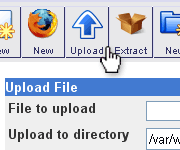 "Upload Files" dialog box is showed up when you click the [Upload] button on the top of the page. Click the [Browse] button at the "File to upload" and choose a file being upload.; Please confirm that the upload directory is "/var/www/html", and click [Upload]. The file is uploaded into the "/var/www/html" of Webmin File Manager.


6. To see your uploaded website:
You can use following subdomain URL for your website.
http://[Your VPS Name].digitalswift.net
If your VPS name were "abc", the URL would be http://abc.digital.swift.net.


You can also check your website the following URL.
http://[Your VPS IP address]/[Your file name]

Now you got your homepage!
Last-modified: 2014-03-05 (Wed) 08:29:56