If you are expecting problems or difficulties of any kind,
please take a look at our FAQ section before contacting our support team.
---
---
General Information †
Where are the VPS servers located? †
Our VPS servers are located in Japan.
How long does it take to set-up my VPS after sign-up? †
We will confirm your registered information and send an e-mail with payment link within 1-3 business days. (Please enter your information correctly, otherwise we have to decline your order. Please rest assured we don't charge when your sign-up.) After your payment successfully, your VPS will be created ASAP. Please install your OS on your VPS.

How many IP addresses will I have? †
The number of allocated IP address is 1 and cannot be added.
Which country's IP address can I use? †
It's Japanese one.
What softwares can I install on my virtual server? †
Provided you abide by our Terms & Conditions you can install whatever software you see fit. Please note that in order to keep pricing competitive we must limit the scope of what we can give technical support on. For this reason you are responsible for any software you install and any consequences that may arise.
Can I use VPS comfortable in spite of unlimited bandwidth? †
We make every effort to keep our service high quality and stable so that you can use it as comfortable as possible. However, please understand that the designated bandwidth is provided on a "best-effort" basis and NOT guaranteed/dedicated any speed.
What does SSH access mean? †
SSH access allows you to connect to your VPS using a command-line interface. You can use a terminal emulator such as PuTTY to connect to your VPS via SSH. To do this you will need the IP address of your VPS and your login details as defined in you set-up email. Please note using SSH to connect to your VPS requires a certain level of technical competence and is more suited to advance users.
Why do you recommend a VPS instead of a dedicated server? †
VPS is a good alternative to the dedicated server hosting. Virtual Private Server hosting is the level between shared hosting and dedicated hosting. VPS is a good way for learning about the dedicated server administration and management. If your shared hosting plan is too limited and you are looking for an affordable solution to dedicated server hosting, this is a real interesting alternative : Virtual Private Server is cheaper than dedicated server.
How is a VPS different from a dedicated server? †
The VPS runs as an enclosed environment on a powerful server. The server is sliced into a number of virtual servers in such a way that does not impact the overall performance of the hardware and other virtual server environments. In all respects, save for a special kernel environment, a virtual server is just like a dedicated server.
Do I have full control over my virtual server? †
Yes, of course, you would be having complete control over your server with full root access and administrative rights. Provided you abide by our Terms & Conditions you can install your own operating software and any other software.
Is the bandwidth shared or guaranteed/dedicated ? †
It's shared. Thus if you use great amount of communications traffic, we may restrict bandwidth speed of your VPS without advance notice.
Are there any restriction(s) in using VPS? †
Currently, the following uses are not allowed on our VPS service. If we find that you use the VPS for following purpose, we may restrict your VPS without advance notice.
Torrent
P2P
IRC
Proxies
VPN
DOS attack
Open relay mail
DNS server setting which can be recursive openly.
Any other acts related above
Do you have a trial period? †
Unfortunately, there's no trial period. But you can order this VPS service from just 1 month.
Support †
What is the level of technical support will I get if I need it? †
We place a strong emphasis on our level and quality of customer support. You can access to our support team from Inquiry page. Each member of our support department has a sound knowledge of Internet related technologies and is capable of operating all of the products we offer.
Do you support in Japanese, too? †
Yes, if you send an inquiry in Japanese, we will answer in Japanese.
I cannot receive any response from support team!! †
Usually we answer your inquiry on the day or the latest 3 days. Please check your SPAM/Junk e-mail folders. After your inquiry was sent, immediately our system automatically sent thank you mail to your e-mail address. If you don't receive it, your wrote e-mail address may be wrong, in that case please contact us again.
Payment †
What kind of payment do you accept? †
Currently we accept payments by credit card (Visa and Master Card with 3D secure), PayPal, Ukash (prepaid voucher) and bank (wire) transfer.
Credit Card (Visa/Master Card with 3D Secure)


Please check whether your credit card has been activated 3D secure before your order.

Ukash


Please notice 10% handling charge will be added.

Bank (Wire) Transfer


Please notice 5400(JPY) handling charge will be added if overseas remittance. Please send money by Japanese Yen. If not, exchange fee will be deducted from your expiry date.

[Note]
We don't issue bills, please check with your withdrawal statement for your payment.
Is there any upper payment limit per transaction? †
Payment limit by credit card, PayPal or Ukash, is less than 160,000 JPY. If the payment amount will be more than 160,000 JPY, we only accept bank transfer for the transaction.
What is the merchant name listed on my withdrawal statement? †
It's our company name "SURGESPACE Corp." (DigitalSwift is our service name). If you use debit card issued by a bank, sometimes it's "sbiberitoransu(ka" or "SBI VeriTrans Co.,Ltd." which is payment transaction company.
My credit card payment is failed... why? †
This service only accepts credit card payment transaction with 3D secure system provided by Visa or MasterCard (Security program "Verified By Visa" or "MasterCard SecureCode") in order to protect your credit card and prevent fraudulent credit-card transaction. If your payment transaction is failed, please check your credit card has been supported 3D secure or contact your credit card issued company or bank. Get more detailed information about the Verified by Visa program and MasterCard SecureCode page.
Can I use my family's/friend's credit card for payment? †
In this case, we may request you to send us an identity verification documents both of yours and credit card holder's.
Do you issue an invoice for my payment? †
No, we don't issue invoices for payments, however a confirmation e-mail which is included your ordered plan and price will be sent in a short while after your payment. You can also check your all of payment histories from "Payment Information" page. If you pay by using credit card, please confirm your credit card statement as a formal invoice.
Are there any discount? †
Yes, you can get "Discount for Long Term". Discount ratio is calculated based on the following table.
[Discount Ratio]

| | | |
| --- | --- | --- |
| 12month | 24month | 48month |
| 10% | 15% | 20% |

[Note]
This discount campaign may change without prior notice. In the case of where the discount ratio changes, the price showed on order form is the latest price which is calculated by the latest discount ratio.
What is your refund policy? †
Only if you directly pay to our company by credit card or bank transfer, we will refund amount of unused period on a monthly basis after deduction of commission charge for the refund. Moreover the amount of unused period is calculated by subtracting amount of paid at the latest order or update order to the amount of normal price (the price before discount by campaign, etc) for used month(s), (if the day(s) is less than one month, the day(s) is round up to one month). In the event that network trouble happen and so on, then our service is unavailable to use more than half a day, we will extend your expiry date for a day.
Operating Systems †
What is "Swift Installation"? †
You can install the following Operating System (OS) just a few steps without any installation setup by yourself. So you can use your VPS immediately after payment.
    CentOS 5.5 (i386 or x64)
    Fedora 14 (i386 or x64)
    debian 5 (amd64 or i386)
    debian 6 (amd64 or i386)
    Ubuntu 10.04.1 Server (amd64 or i386)
What is "Default ISO" or "ISO Image installation"? †
We've already uploaded ISO image files of the following Operating System (OS) as default. So you can use it and install the following Operating System (OS) by manually on your VPS.
    CentOS 5.8 (i386 or x86_64)
    CentOS 6.3 (i386 or x86_64)
    debian 5.0.10 (amd64 or i386)
    debian 6.0.3 (amd64 or i386)
    Fedora 14 (i386 or x86_64)
    Fedora 17 (i386 or x86_64)
    FreeBSD 7.1 RELEASE (amd64 or i386)
    FreeBSD 8.3 RELEASE (amd64 or i386)
    gentoo minimal 2008.0r1 amd64 or 2008.0 x86
    gentoo minimal 20120621 amd64 or 20120710 x86
    ubuntu 11.10 server (amd64 or i386)
    ubuntu 12.04 server (amd6 or i386)
What is "User's ISO" or "My ISO image installation"? †
By using this feature, you can install your Operating System (OS) into your VPS easily (available at above of Swift2G plans). This feature is for the first time in the VPS business field! More details information, please refer to How to install ISO file in FAQ (wiki) page.
Can I use Windows OS? †
We're afraid to say that you cannot install WindowsServer on your VPS from the viewpoint of license.
Connection by VNC †
How can I connect to my VPS by VNC? †
Just push "Open" button for it at manager page. If you cannot open it, please kindly try it with a different browser. For your reference, we confirmed that IE10, IE11 and latest Firefox can work without problem. If you turn off Javascript function of the browser, it may not work well.
During my first login to my VPS on VNC, I can't login my VPS by using registered VPS name... †
Please try to enter "root" for login name.
Control panel †
What is "Webmin"? †
Webmin is a web-based interface for system administration for Unix. Using any modern web browser, you can setup user accounts, Apache, DNS, file sharing and much more. More detail information about Webmin, please refer to WEBMIN.COM .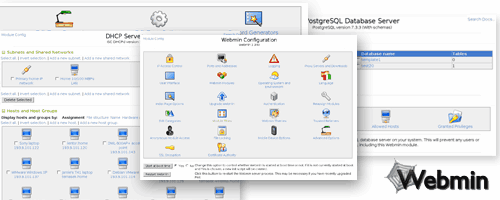 How can I install webmin? †
If you use feature of Swift Installation, it will be installed by automatically so you can use it immediately after Swift Installation. If you install OS (Operating System) by using ISO image file manually, in this case manual installation of webmin is necessary.
How can I access to Webmin for my system? †
After installation of Webmin by manually, please access to the following URL on your browser.
http://[Your VPS IP address]:10000/
If your VPS IP address were "123.123.123.123", your Webmin URL is the following:
http://123.123.123.123:10000/
or
https://123.123.123.123:10000/
Please input "Username" and "Password" like the following at the first time to access your Webmin URL. Username: root Password: registered password at your signup
Account management †
Do you automatically backup contents on my VPS? †
We use RAID (HDD Mirror Back-up) configuration system for our server, however we do not automatically backup each datas in your VPS. It is your responsibility to backup contents in your VPS.
I don't have any domain name but I want to make a homepage... †
Don't worry! We provide you subdomain address for your homepage by default.
Your URL is as below,

http://[Your VPS Name].digitalswift.net
If your VPS name was "abc",
the URL would be http://abc.digitalswift.net.

I'd like to change my current VPS plan to another one... What should I do? †
We're sorry that you cannot upgrade or downgrade your using plan, please buy another VPS with a necessary plan from "ADD VPS" page on your manager page.
I completely forget to update my subscription and my VPS account expired... †
Don't worry. If it is within 10 days after your expiration date, you will be able to resurrect your VPS account by paying 10% of your monthly fee per a day as re-agreement charge and keeping data fee and recharge subscription fee. For more details, please feel free to contact us.
Last-modified: 2014-11-20 (Thu) 02:31:27